EZ Ads have been on the market now for about 3 months and we are starting to get some great feedback as to how to best utilize the ads. In case you aren't familiar with EZ Ads, they're self-service ads that show up only in pre-selected ZIP codes where you pay one penny every time the ad is displayed.
One of the more imaginative and effective uses we're seeing is to advertise open houses. Compare buying EZ Ads to advertising an open house with using direct mail, which is another way to target ZIP codes. Let's say you buy a mailing list of 1,000 names for $100 in a particular ZIP code. If the piece you are mailing costs 10 cents each, that would be $100 in marketing materials costs, plus $410 in stamps. You total mailing cost is $610 to reach 1,000 people. Where these people may be qualified by ZIP code, you don't know their interest level in real estate. For that same $610 you could have bought 61,000 EZ Ad impressions (or ad views) in specific ZIP code(s) on Zillow. Here you not only know that the ad's viewers are ZIP code targeted, but they also have an interest in real estate. It's also easy to edit your EA Ad at any time so keep the open house info fresh.
Buying EZ Ads is a great way to publicize upcoming open houses. It also sends a great message to sellers when they see their home promoted on Zillow. So if you have an open house coming up go ahead and promote it with an EZ Ad now!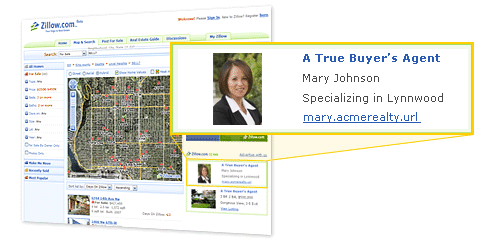 -------------------------------------------------------------------------------------------
   Thanks for reading!  Subscribe here to be alerted of blog updates. 
Want to learn how to use Zillow better?  Check out:
I'm on Twitter too! Follow me at @sbonert.